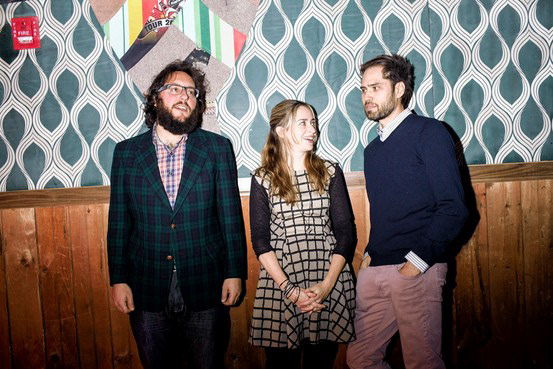 Established on principles of community, artistic diversity, and stylistic freedom, New Amsterdam Records is a non-profit artist's service organization dedicated to supporting the public's engagement with new musical projects by composers and performers whose work grows from the fertile ground between genres and does not adhere to traditional and outdated genre distinctions. New Amsterdam is focused on the development, dissemination, presentation, and promotion of new album-based projects that wholly fulfill the intent of their creators, resulting in music without walls, without an agenda, and without a central organizing principle. For our efforts, NewAm has been called "the focal point of the post-classical scene" by Time Out New York and "emblematic of an emerging generation" by The New York Times.
Founded in 2008 as a community-based cooperative record label, NewAm was granted 501(c)(3) status in 2011 with the mission of supporting and representing the post-genre new music community. Since our inception, the New Amsterdam Records label has released over 75 critically-acclaimed records and garnered numerous awards and accolades, including a Grammy award, 6 Grammy nominations, a Pulitzer prize, and placement in countless features and "Best of" lists from traditional media outlets like NPR's All Things Considered, The New York Times, New York Magazine, The New Yorker, the Los Angeles Times, The Wall Street Journal, as well as tastemaker publications like Pitchfork, Brooklyn Vegan, and Popmatters.  Over the course of our history, New Amsterdam has curated and presented over 500 national and international live concerts of groundbreaking new music featuring world premieres, semi-staged operas, record releases, music festivals, and chamber music.
In all of our presenting and recording activities, NewAm holds firmly to its mission to support artists whose work lies outside of traditional music industry infrastructure - whether that be classical, pop/rock/indie, jazz, world, or experimental. In pursuit of this calling, NewAm often collaborates with like-minded organizations. Our past and ongoing partnerships with the River to River Festival, Ecstatic Music Festival, Art of Elan, the Indianapolis Symphony (multi-year residency), MoMA PS 1, Liquid Music, Galapagos Artspace and National Sawdust have yielded high-profile opportunities for our artists to present their work. On the records side, we often partner with other labels in order to offer our artists the best possible representation for their projects. Partner labels have included Bedroom Community (Iceland), Nonclassical (UK), One Little Indian (UK), Sono Luminus (USA), Cantaloupe (USA) and NNA Tapes (USA).