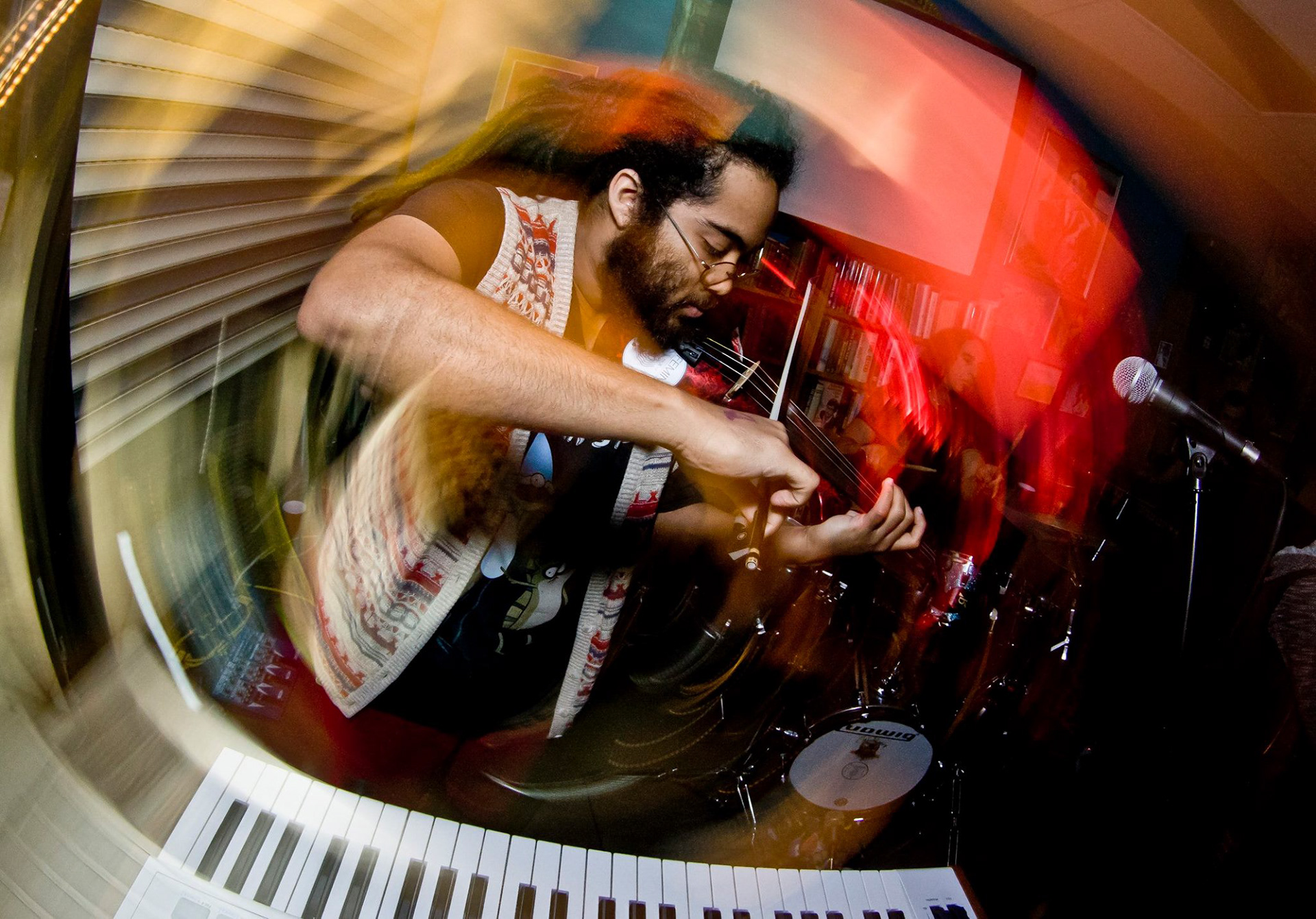 Darian Thomas is an interdisciplinary artist. Cycling through various performing arts at a young age, including dance, ballet, painting, writing, and rapping, he found his love at the age of 11 in the Violin. He has since performed in all the major venues in San Antonio as a chorister, violinist, soloist, rock band musician, and orchestral musician. He has also toured the US, England, and China.
A highly active composer, Darian has had works for films, dance, and different instrumental ensembles commissioned and premiered. Highlights include having the Youth Orchestras of San Antonio premiere his string orchestra work Organic Genesis, and SA Artist Foundation Award Recipient Tamara Adira of Flamenco artist collective Arte y Pasión premiere his electro-acoustic piece Rumba | Water and Rock at multiple venues and concert halls around San Antonio. He has also worked extensively as an orchestrator for post-modern jukebox-esque band Sugar Skulls, and orchestral indie-rock band Deer Vibes.
As a performer, Darian is currently involved in five performing bands/ensembles. He plays a mixture of experimental electric violin, contemporary or classical acoustic violin, synths, keys, guitar, and sings lead or backup vocals for local groups
Femina X
,
Deer Vibes
,
Sugar Skulls
,
Foreign Arm
, and
Arte y Pasión
. A highlight was performing with Deer Vibes in an official SXSW showcase concert in 2016. 
He has also started an electronic duo by the name
Saturn Skies
, in which both musicians test the limits of their abilities as composers, songwriters, vocalists, and multi-instrumentalists.
His most recent endeavor has been studying photography and videography with the assistance of local artists in San Antonio. He performed Tezcatlipoca months after starting his work in the visual art world, and more recently was commissioned to create video art for Arte y Pasion's performance during Luminaria in 2016. 
Darian has studied violin with former San Antonio Symphony assistant concertmaster Matthew Zerweck, composition lessons with Curtis alumnus and Yosa Music Director Troy Peters, and Rudolph Palmer while he attended Mannes The New School for Music. 
He then completed his degree in Music Composition and Philosophy as a Kemper Scholar at The University of The Incarnate Word in San Antonio, Texas. During his time at UIW, he studied violin with Austin Symphony principal second violinist Richard Kilmer and former San Francisco Symphony principal second violinist Daniel Kobialka, conducting with William Gokelman, and composition with James Syler. Assistance and invaluable advice in his visual arts endeavors has come from
Daniela Riojas
 and
Oscar Moreno
.
Darian has received his BA in Music and Philosophy at the University of the Incarnate Word.